Shopping Cart
Your Cart is Empty
Thank you for your business!
You should be receiving an order confirmation from Paypal shortly.
Exit Shopping Cart
26th February - 7th March 2020
"When shall we three meet again in thunder, lightning, or in rain?"

Victorious from a bloody battle the triumphant Macbeth is greeted by the three weird sisters. Inspired and driven by their incredible prophecies he sets out on the path to conquer all. A story of ambition, leadership and belief.
Shakespeare's supernatural and bloody Macbeth bursts on to the stage in this epic new ensemble production and features as the first production in our third year-long residency at Greenwich Theatre.
Macbeth is produced in association with The Greenwich Theatre and is part of our Greenwich Made / Greenwich Played residency.
This production has now closed
Dates Feb 26th - March 7th 2020
Tue – Sat at 7.30pm,
Tue, Thu and Sat matinee at 2.30pm
Venue The Greenwich Theatre
Tickets £25.00, £15.00, £10.00.
£15.00 concessions on top price tickets.
Box Office 020 8858 7755
Run time 2 hours,10 minutes including a 15 minute interval
Age recommendation 12+
Macbeth is suitable for patrons aged 12 and above.
Contains haze, gun shots, blood and scenes of violence.
★★★★ "A fiercely modern Macbeth…
This is a thrilling and powerful Macbeth full of invention and innovation."
Claire Roderick, Fairy Powered Pro
In response to the decline in arts participation and in conjunction with the 50th Anniversary of the Greenwich Theatre we shall be offering 50 tickets at each performance for just a £5 to patrons aged 16–26.
Use the code "[email protected]" in the checkout when booking online and collect your tickets with proof of age from the box office on the night you're seeing the show. (Available on £10 tickets, maximum of two tickets per transaction.)
Terri Paddock is a theatre journalist, event producer and content and social media marketing strategist with over 20 years' experience. Terri will be returning to chair the discussions.
Macbeth Post Show Q&A; tbc
Venue Greenwich Theatre
Tickets are free to all ticket holders for that evenings performance.
Production shots taken by Adam Trigg
★★★★ "A stunning and accessible version… Pure inventiveness…
A visionary look at staging classic work"
View from the Gods on Tamburlaine the Great
Cameron Nelson -
Weird Sister / Donalbain / Doctor
David Clayton -
Weird Sister / Macduff
Darcy Willison -
Angus / Lady Macduff
Fred Thomas -
Malcolm / Apparition
Hamish Somers -
Captain / Weird Sister / Lennox
Lewis Davidson - Banquo / Apparition
Luke Ward-Wilkinson - Duncan / Apparition
Mikko Juan - Ross / Messenger / Doctor
Alice Emery -
Lady Macbeth
Written by William Shakespeare
Adapted, Directed and Designed by Ricky Dukes
Lighting Design by Alex Musgrave
Sound Design by Phil Matejtschuk
Costume by Sorcha Corcoran
Dramaturge – Sophie Duntley
Stage Manager – Juliette Green
Assistant Stage Manager - Daniela Sutcliffe
Assistant Director – Lata Nobes
Movement Captain – David Clayton
Company Photographer – Adam Trigg
Production Graphic Designer – Bobby Bowyer
Producer – Gavin Harrington-Odedra
★★★★ "Lazarus has once again delivered a new take on an old classic"
Terry Eastham, Last Minute Theatre
Did Shakespeare's contemporaries believe in witches?
Carole Levin looks at witchcraft trials in the 16th century and considers their relation to the 'weird sisters' of Macbeth.
While king of Scotland, James VI became utterly convinced about the reality of witchcraft and its great danger to him, leading to trials that began in 1591. James was convinced that a coven of powerful witches was conspiring to murder him through magic, and that they were in league with the Devil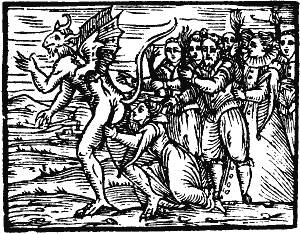 ★★★★ "Lazarus Theatre's ensemble-based take on Macbeth at Greenwich Theatre proves thrilling in its stylish directorial vision… It's a bold resetting"
Proudly supported by and in association with...
/